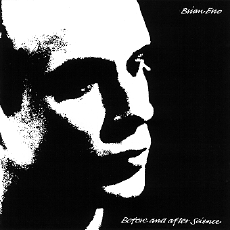 Enomania, or 23 Years in Six Songs
Part Three: By This King's Lead River Hat
By overdoing the music thing for so many years--all music all the time--I ended up burning myself out. I needed a break and film, which has always meant a great deal to me, provided the artistic alternative I needed. Plus, I didn't like the more mainstream direction KCMU was moving in, while I was simply bored by KNDD which, like most commercial stations, left no room for spontaneity (the playlist was pre-programmed). I left The End in 1996 and Microsoft in 1998 (although I would continue to do freelance voice work for Microsoft for the next three years) and took a job at Amazon. My goal was to write editorial reviews, which I began to do in 2000. Before that, the only paid film writing I had ever done was for Microsoft's Cinemania, due to the kind auspices of my friend Jeff (I had also done some unpaid work for Film.com). That was in 1996. By 1997, Cinemania was no more. In the meantime, I had been volunteering for the Seattle International Film Festival. Gradually, I started to miss writing about music, so I looked into contributing to the All Music Guide, as it was a resource I used often. I would write for the AMG from 2001 to 2003. So now, I was writing about music and film. Things were starting to come together. I had retired from radio, but was making plans to do the writing thing full-time.
In 2002, I went to see a couple of films which featured the same Eno track. I don't mean to make too much of the coincidence, just that it reminded me how much I love his music, which I hadn't been listening to for awhile. I was spending a lot of time in the cinema and reading a lot of books on the subject, but I wasn't buying music as often as I used to. I was, of course, still listening to the radio (KCMU had recovered from its early-1990s nadir). First, there was Alfonso Cuarón's
Y Tu Mamá También
, which I loved. A great soundtrack, including Eno's "By This River" (
Before and After Science
), didn't hurt, although I can no longer remember the context in which it was used.
[Four months after I wrote this piece, I watched
Y Tu Mamá
on DVD. The song materializes just after Luisa has told Julio and Tenoch how her first boyfriend died--killed in a car accident at 17. Shortly after it begins, the track sputters to an end. "Don't! This song rules!" Tenoch (Diego Luna) protests. "The batteries are dead," Julio (Gael García Bernal) sadly explains.]
Then there was Nanni Moretti's Palme d'Or winner,
The Son's Room
(
La stanza del figlio
), which I had seen just a few weeks before. In all honesty, it didn't knock my socks off, but it's a respectable effort that, at the very least, takes a more introspective approach than that year's other big "dead son" movie,
In the Bedroom
. There's a particularly memorable point in the film in which Moretti's grieving Giovanni walks into a record store and ends up holding a pair of headphones to his ears as "By This River" swirls around him. For a moment, he is comforted. According to Moretti ("Three Colours Italian,"
Sight and Sound
, January 2002), "When I thought of the scene of myself giving my dead son a record as a present I immediately decided the song had to be Brian Eno's 'By This River,' and that it also had to be included in the last scene." It's a lovely song and a lovely sequence. One film was from Mexico, the other from Italy. Suddenly, Eno was everywhere. I could be wrong, but I swear I heard "By This River" in yet another film that year. Or maybe I'm just imagining it.
By This River
Here we are Stuck by this river, You and I Underneath a sky that's ever falling down, down, down Ever falling down. Through the day As if on an ocean Waiting here, Always failing to remember why we came, came, came: I wonder why we came.
You talk to me as if from a distance
And I reply
With impressions chosen from another time, time, time,
From another time.
Let's move ahead a year. I'm listening to KEXP when an astonishing version of "King's Lead Hat" (
Before and After Science
) comes crashing out of my speakers. I'd never noticed this lyric before: "Four darkies in a big black car," but Mick Collins, the African American vocalist, clearly enunciates them as such. Caught my attention for sure. Did Eno really say "darkies"--or did he say "turkeys" (see below)? No one seems to know, but Collins had taken a stand on the issue. In any case, the song was from the new Dirtbombs CD,
Dangerous Magical Noise
, their third full-length. The Eno cover was a limited edition bonus track (along with Robyn Hitchcock's "Executioner of Love"), so I placed my order for the disc forthwith. I had heard of Collins before as I was a Gories fan from way back, but hadn't really followed his career since the Detroit trio split in the 1990s...right around the time I was exiting Cellophane Square and KCMU, and just wasn't keeping up with new music the way I used to (not counting that burn-out factor). Well, I loved the album so much it ended up as my favorite CD of the year. I would go on to add other Collins-related projects, like Blacktop's great
I've Got a Baaad Feeling About This
, to my collection. The Dirtbombs are now one of my all-time favorite bands. All because of Brian Eno. Unfortunately, that was the last time I heard their version of the song on KEXP.
King's Lead Hat
Dark alley (dark alley) black star Four turkeys in a big black car The road is shiny (bright shine) the wheels slide Four turkeys going for a dangerous ride The lacquer crackles (black tar) the engines roar A ship was turning broadside to the shore Splish splash, I was raking in the cash The biology of purpose keeps my nose above the surface (Ooh) King's lead hat put the innocence inside her It will come, it will come, it will surely come King's lead hat was a mother to desire It will come, it will come, it will surely come.
In New Delhi (smelly Delhi) and Hong Kong They all know that it won't be long I count my fingers (digit counter) as night falls And draw bananas on the bathroom walls The killer cycles (humdrum), the killer hurts The passage of my life is measured out in shirts Time and
motion (motion carried) time and tide All I know and all I have is time And time and tide is on my side King's lead hat put the poker in the fire It will come, it will come, it will surely come King's lead hat was a mother to desire It will come, it will come, it will surely come. The weapon's ready (ready Freddy) the guns purr The satellite distorts his voice to a slur He gives orders (finger pie) which no-one hears The king's hat fits over their ears He takes his mannequin (tram line) cold turpentine He tries to dial out 999999999 He dials reception (moving finger): he's all alone He's just a figment on the telephone! King's lead hat made the Amazon much wider It will come, it will come, it will surely come King's lead hat was the poker in the fire It will come, it will come, it will surely come King's lead hat was a mother to desire It will come, it will come, it will surely come King's lead hat put the innocence inside her It will come, it will come, it will surely come.
In 2004, Astralwerks began to issue remasters of all the Eno titles on Editions EG. Since then, I've been trading out my old discs . Along the way, I picked up 1975's
Another Green World
. It's always been my least favorite of the first four vocal recordings and I still the feel the same way. It's a fine album in and of itself, but it also marks the transition between the avant-rock stuff I love so much and the ambient stuff I don't. But the other three sound as fresh as ever. Also that year I interviewed Spoon's Jim Eno for
Tablet
(only my second musician interview, after Sondre Lerche, since leaving KCMU). And how did that Austin-based band get their name? Why, from the wondrous track of the same name off Can's
Ege Bamyasi
(1972). And what does any of this have to do with Brian Eno? Well, nothing really...except for that
Eno
part.
Note:
Part three of four. Lyrics and cover image from
enoweb
.